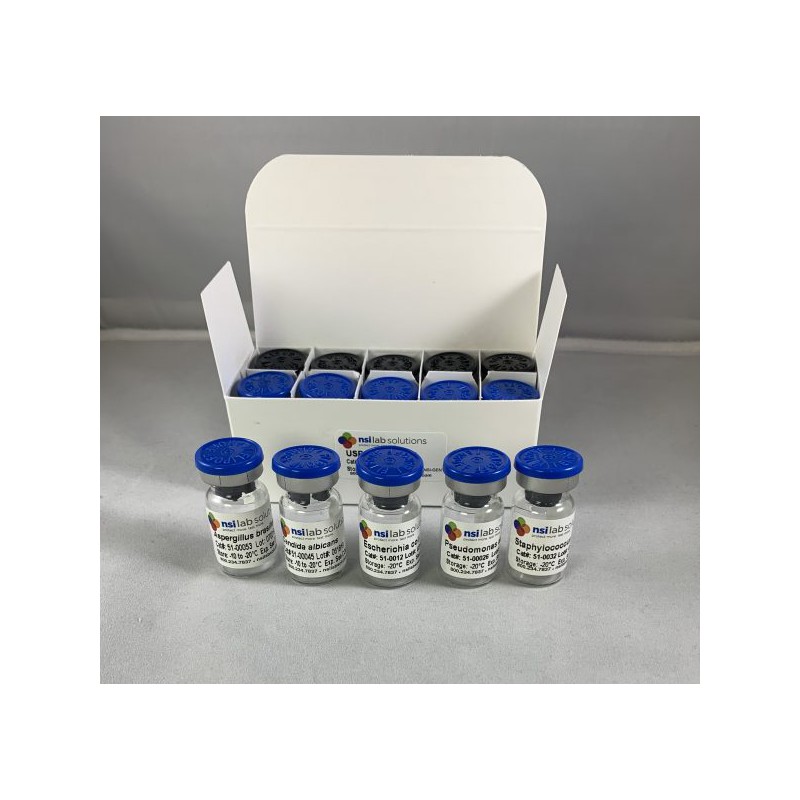 NSI
MicroMix Pharma USP51 Kit (5 strains)
Quantitative Reference Cultures for USP 51 and  Antimicrobial Effectiveness Testing
Each kit contains 1 vial of each 5 microorganisms (BSL-2) and 5 vials of hydration fluid.
Individual strains can also be purchased individually. 
Manufactured from USP specified pure organism strains using media and procedures conforming to USP specifications.
Supplied with sterile hydration fluid, simply add a single sample to the 1.2 mL buffer and swirl.  Resulting inoculant activity will be at least 10E8 CFU per mL.
The activity of each lot of organisms is analytically certified by spiral count on USP specified media.  We analyze at least 20 samples from each production lot for activity confidence.
The kit is made of the following bacterial strains at concentrations above 2.5 X 10E8
- Staphylococcus aureus (ATCC 6538)
- Pseudomonas aeruginosa (ATCC 9027)
- Escherichia coli (ATCC 8739)
- Candida albicans (ATCC 10231)
- Aspergillus brasiliensis (ATCC 16404)
Each individual strains can also be purchased individually