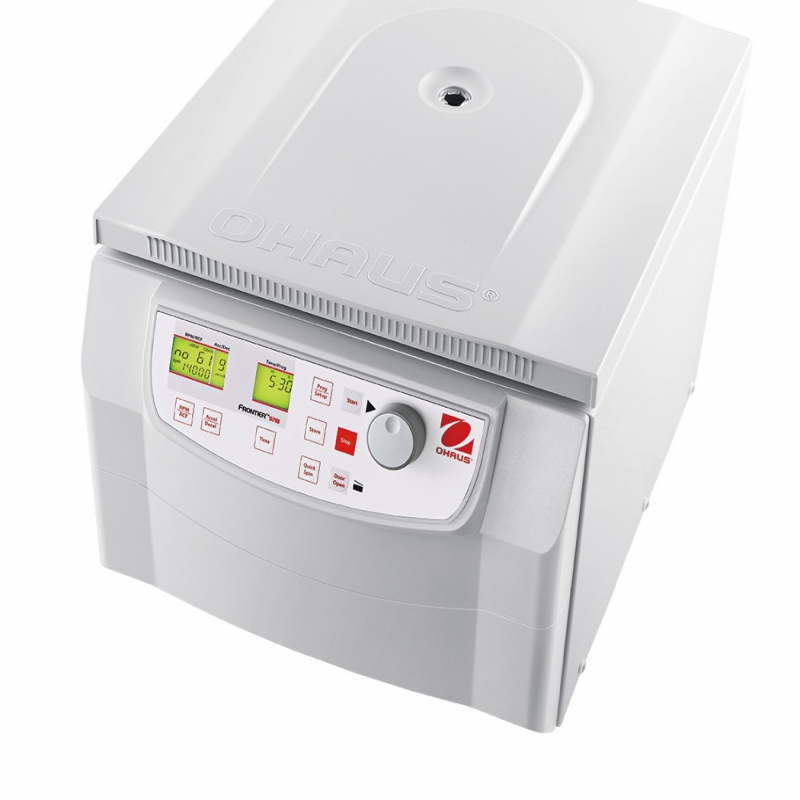 OHAUS
Centrifuge Frontier FC5718
Centrifuge Frontier 5000 Series Multi Pro, Model FC5718, 200-18000 RPM, Air cooled, 23542g G-Force, Capacity 4x100ml 
Powerful and Versatile Universal Centrifuges for Virtually Every Lab Application
Frontier 5000 Multi-Pro Centrifuges are designed for universal use in virtually every application in research, industrial & clinical laboratories. Combine with our range of rotors & accessories for customized use in specific applications.
Standard Features Include:
Powerful Platform Offers Maximum Flexibility for a Range of Applications Our multi-purpose centrifuges offer a high-speed centrifugation platform which can be customized to fit workflow needs using a wide variety of rotors and accessories.
Intuitively Designed for User-Friendly Operation The intuitive design of the centrifuges & accessories enable easy access to parameter settings, and quick rotation between applications. Features include automatic rotor recognition and backlit LCD.
Solid Engineering Ensures Reliability and Durability The performance of these centrifuges is propelled by German engineering, and high-quality components for reliable use. Constructed of chemical-resistant stainless steel to ensure durability in lab use.
Increased Safety With Built-in Protective Features Frontier 5000 Series is equipped with protective features, including automatic over-speed protection, imbalance detection and self-diagnostic system to ensure reliable use and operator safety.
FC5718 (non-refrigerated) and FC5718R (refrigerated) Centrifuges
Compatible with up to 19 optional rotors and 122 accessories
Capacities from microliter to 4×100 ml
High-speed centrifugation (>10000 rpm) from 0.2 ml up to 85 ml tubes
Temperature variable range of -20 °C to 40 °C (FC5718R)
Data sheet
Max g-Force

23542 g

Exterior dimensions (W X H X D)

499x408x351mm - 19.7x16.1x13.8 in.

Capacity

4 x 100ml

Adjustable speed

200-18000 rpm

Temp. Range

Air cooled