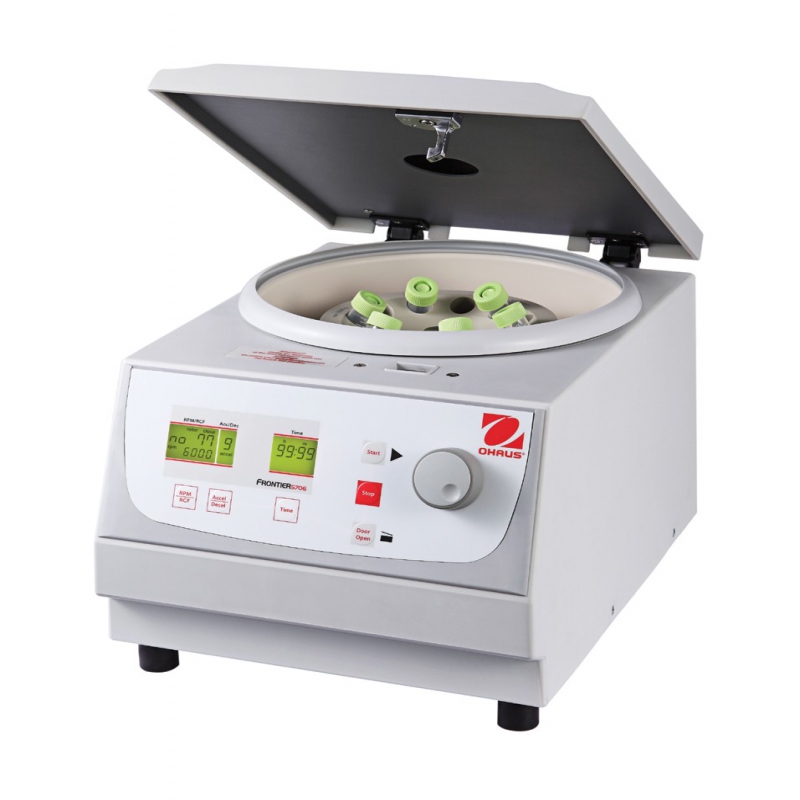 OHAUS
Multi-Centrifuge Frontier FC5706
Frontier™ Multi Centrifuges are reliable compact low-speed general purpose centrifuges.
The standard rotor options can process both round and conical bottom tubes (including common blood tubes), and can also be adapted easily with accessories to process smaller tubes.
Designed with convenient operation in mind, the Multi Centrifuges feature an intuitive interface. The compact profile helps to save valuable bench space in labs.
Speed Range                                              200 to 6,000 rpm
Maximum Relative Centrifuge Force (x g)      4,427 g
Maximum Capacity(Rotor)                            6 x 50 ml
   SPECIFICATIONS
| | |
| --- | --- |
| Speed Range | 200 rpm ;  6,000 rpm  |
| Maximum Relative Centrifuge Force (x g) | 4,427 g  |
| Maximum Capacity(Rotor) | 6 x 50 ml  |
| Program memories | 99  |
| Rotor In Package | Not applicable  |
| Acceleration Gear | 10  |
| Deceleration Gear | 10  |
| Dimensions | 15.4 in x 10.5 in x 11.5 in (392 mm x 266 mm x 291 mm) (LxHxW)  |
| Display | LCD with backlight  |
| Lid lock | Motor driven  |
| Net Weight | 23 lb (10.5 kg)  |
| Noise Level | ≤60±2 dB(A)  |
| Power | AC Power (Included)  |
| Power Consumption | 100 W  |
| Pre-cool time | Not applicable  |
| Rotor Compatibility | Swing Out Rotor 6 x 5 ml;  Angle 12 x 15ml;  Angle 6 x 50 ml  |
| Rotor Recognition Method | Manual  |
| Running Time | Continous;  10 sec to 99 h 59 min 59 sec  |
| Safety Certification | CE;  FCC  |
| Working Environment | 36°F – 95°F, 80%RH, non-condensing (2°C – 35°C, 80%RH, non-condensing) |
Products in the same category