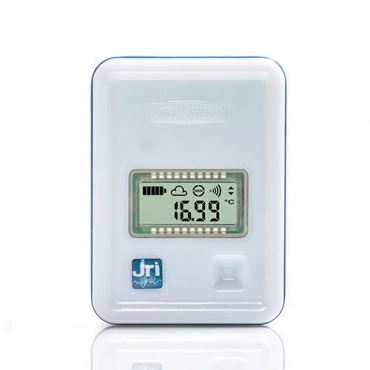 JRI
LoRa SPY U for Analog Sensors
The LoRa SPY U is an universal analog input recorder with a long-range LoRaWAN connectivity.
It is compatible with the following type of analog sensors: PT 100, current (4-20mA / 0-20mA), voltage (0-1V), counting or dry contact.
Data are sent to the JRI MySirius secure Cloud for optimal exploitation on the JRI MySirius monitoring web platform, or directly to your servers (using webAPI or LoRa SPY U control protocol). It connects to the LoRaWANTM network of telecom operators members of the LoRa AllianceTM or to a Micro Gateway private network data transmission module.
In case of thresholds excursions, real-time alerts are sent by SMS text message, mail or voice message.
Long-range LoRaWAN connectivity
Easy to use : LoRa SPY U is ready to use and has operating and alarms lights
LCD display
Excellent measurement accuracy : reliability of a professional measuring instrument
Robust
Fixing eyelets and integrated magnets
Replaceable battery
Type of input
PT100
Current / Voltage
Counting 
Dry Contact 
 Measurement range
-200°C to +300°C 
 0 to 20 mA or 4-20 mA or 0-1V
 0 to 65535
 Dry contact or 0-3,3V max
 Resolution
 0,01°C
 0,001 mA
 1
 - 
 Accuracy
±0,3°C from -80°C to -20°C 
±0,2°C from -20°C to +50°C
±0,3°C from +50°C to +140°C 
±0,5°C out of this range
 ±0,01 mA
 ±1
 - 
Communication frequency : 868/915 MHz
Memory : 10 000 data points
Radio range : Up to 16 km open field range
Interface : Status LED lights, On/Off touch sensitive button, LCD display
Dimensions : 87 x 64 x 25 mm
Weight : 100 g
Power supply : Replaceable Lithium 3,6v battery
Identification ring : Blue
Battery lifetime : 2 years
Part nrs : 

868 MHz: 11810 2E
868 MHz without battery : 11810 2X
915 MHz without battery : 12277 EX
Data sheet
Measurement Range

Depending on sensor used

Memory

10 000 measurements

Sensor

Depending on sensor used

Power Supply

Replaceable Lithium 3,6v battery

Battery Lifetime

2 years
Products in the same category