Previous
keyboard_arrow_left
Next
keyboard_arrow_right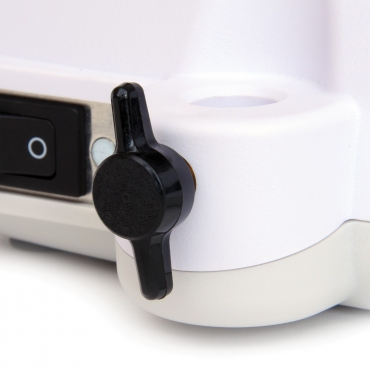 OHAUS
Mini Hotplate Stirrer
Basic Mini Hotplate Stirrer, HSMNHS4CAL, Adjustable temperature to 500°C, Speed range 100 to 1200 rpm, Maximum capacity of 1000ml, 4x4" (10.2 x 10.12cm)
Mini Hotplates & Stirrers
• New ergonomic design
• Hotplate-Stirrers boil 300 mL of water in 18 minutes
• Ideal for educational labs
• Built in support rod holder
The OHAUS Basic Mini Hotplates, Stirrers, and Hotplate-Stirrers are rugged, compact units that heat and stir up to 1000 mL of liquid. Ceramic tops feature a chemical resistant white reflective top plate that is easy to clean. Bi-metallic thermostat offers reliable temperature control. Powerful heater reaches maximum temperature in only minutes. Powerful motor and magnet deliver reliable and consistent stirring. Compact design saves bench space. Built-in support rod holder with locking knob accepts optional Support Rod and Clamp Kit.
Basic Mini Auto-Stirrer is automatically activated by the minimum weight of a beaker or flask and will stop stirring when mixing vessel is removed.
Operating Features:
Adjustment Knobs: Basic speed and temperature control knobs with dial markings from 1 to 10.
Operating Conditions:
Units can be run in conditions from 5 to 40°C (41 to 104°F), 20% to 85% relative humidity, non-condensing.
Applications:
Academia and basic chemistry.
Ordering Information:
Units include a 3-wire cord and plug. Stirrers and Hotplate-Stirrers are supplied with a 1.5" (3.8 cm) PTFE coated stir bar.
Data sheet
Top Plate dimensions

4 x 4 in

Exterior dimensions (W X H X D)

7.9 x 6 x 5 in

Capacity

1000 ml

Adjustable speed

100 to 1200 rpm
Previous
keyboard_arrow_left
Next
keyboard_arrow_right